Dr. Laurence Bray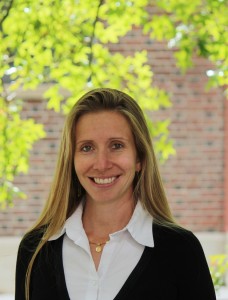 Dr. Laurence Bray received her B.S. degree in biological sciences and M.S. degree in bioengineering from Clemson University, SC in 2004 and 2005, respectively. She received her Ph.D. degree in biomedical engineering from the University of Nevada, Reno (UNR) in 2010. She then gained more research and teaching experience as a postdoctoral fellow in the department of computer science and engineering at UNR.
At Clemson, Dr. Bray worked on the development of a novel polymer coated nitinol endovascular stent for restenosis control and drug delivery release. At UNR, she acquired expertise in computational neuroscience by modeling biological neural networks to replicate brain dynamics underlying navigational learning. As a postdoctoral fellow and a research assistant professor, Laurence focused on improving her models and integrating them in a virtual neurorobotic environment to study high-level human behaviors (e.g. navigation). Along with her research, she has taught a computational neuroscience course for both undergraduate and graduate students.
Dr. Bray has recently started a new appointment as a research assistant professor in the department of bioengineering at George Mason University. She continues her research in the field of computational neuroscience working with Dr. Wilsaan Joiner in developing a biologically realistic neural computational model of sensorimotor adaptation. Her main interests are brain modeling, real-time systems, and virtual neurorobotics. She has worked on several projects funded by the Office of Naval Research (ONR), and her research contributions are covered in multiple recent journal and conference publications.
Leave a Comment